Posted on 8th November, 2019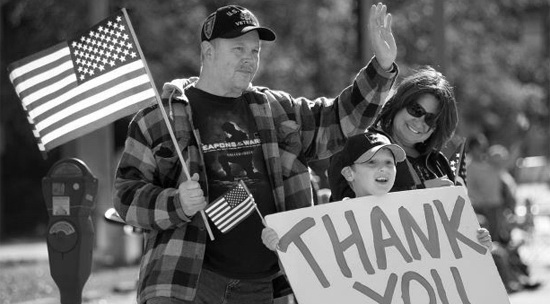 National Veterans Day is officially celebrated on 11 November annually. This day must remind us of the millions of Americans who have put on the uniform to serve in the United States military.
We must honor the service and sacrifice of our nation's warriors by providing the necessary care and resources to help those suffering to get benefits to compensate them and their family members.
Veterans Day is dedicated to all who have served the United States Armed Forces, both past and present, to thank them for their selfless service to the country. Everyone should express immense gratitude to veterans for putting their lives on the line serving our country and protecting our freedom.
There are several simple-yet-meaningful ways to show your utmost gratitude to veterans and their families:
If you know a veteran, take a moment to simply say 'thank you for your service'
Volunteer to help a Veterans' Service s Organization
Visit a VA Hospital or a Retirement Home
Call a veteran family member
Be proud of your country
Raise grateful kids
A New Battle: Health Problems Caused by Toxic Exposure While Active Duty
Military service comes with the heightened threat of severe injury or even death. What is sometimes overlooked is that these brave men and women who served our country, often have been victims of toxic exposures from their everyday work environments, living conditions or other hazardous circumstances. Many veterans who were unknowingly exposed to toxic chemicals during their service may face residual effects of combat long after they return home. Exposure to environmental hazards may have occurred as part of their military occupation, resulting in an increased risk of severe illness.
We must do more in order to address the illnesses we are seeing in former and actual service members as a result of toxic exposures. Therefore, adequate financial resources should be allocated to research diseases that may be connected to certain kinds of exposure and we must treat those affected without delay. We cannot allow today's veterans to wait for the medical care they need.
We Honor Veterans Every Day, Not Only on One Day
Asbestos' resistance to chemicals, heat, water, and electricity played a strategic role during wartime, being one of the most commonly used substances in all military branches. In the U.S, asbestos use was at its peak during World War II due to its use in shipbuilding. As a result, veterans are among the most at-risk developing mesothelioma - a deadly cancer of the lungs, accounting for about one-third of the diagnoses.
Sadly, many veterans are unaware of the benefits to which they may be entitled to if records demonstrate exposure to asbestos in the military. These benefits can provide significant assistance, particularly in cases where veterans suffer service-related injuries or disabilities. Veterans who can prove that they were exposed to asbestos during active duty and who have developed an asbestos-related disease, may be eligible for service-related disability and medical treatment. At Asbestos Vets, we offer compassionate and comprehensive services to aid veterans and their family members.